Tag Archives:
Books
Hello peeps! I'm so sorry it's been a minute since I've been here, but I've been a busy bee as you will soon see and I'm wishing you all well and hoping for Spring to bring us warmer weather and sunshine soon (I say this as I look out my window at falling snow, yet again, and take antibiotics fighting off an ear infection).
Yeah I'm over Winter.
All that said, there are some bright spots. I have some fantastic deal news that I can finally share. I'm so thrilled to say my lovely and fearless editor at Kensington Books is taking me on for two more novels in a brand new fish out of water small town series! The series will be the SUGAR LAKE series and the first book is tentatively titled:
As Good As The First Time (release date to come- see the pic of the deal announcement below).
And if you follow me here or on other forms of social media (twitter @kwanawrites or Facebook )  you'll know I had an article in a local paper which I have come to find was shared with another local paper and, funny how these things go, was seen by Jack's vet. Well yesterday I nearly broke out in tears when I got this sweet note from Jack's vet office. I tell you people can be so kind and generous at times. And I'm so grateful for that. Talk about a proud moment of being a fur baby's mama!
Thanks for hanging with me and all the support. You don't know how much it means to me. Or maybe you do.
I think you might. Once again I hope all is well where you are.
Sending wishes of Lovely Reading!
All the best,
KMJ
Good day! I hope the New Year is treating everyone super so far.
I recently got in cover proofs for book 3 (wow, that's wild to say): THE BETTING VOW in my Unconventional Brides Series and I love how beautifully it sits right along with my lovely cover for book 2: TO ME I WED.  They are so sweet I just want to eat them with a spoon! I think Jack is in love with them too.
So INSERT GROOM HERE (book 1) which is out now is just the beginning of the fun for the
Unconventional Brides.
Book 2 will be out May 1st and Book 3 will be out September 1.
2017 will be quite the ride!
Pick up INSERT GROOM HERE wherever books are sold and get in on the fun now!
Kensington: http://bit.ly/2eh61Vb
Amazon: http://amzn.to/28Mbqk3
iBooks: http://apple.co/28RPaWU
Barnes and Noble:  http://bit.ly/2gwFuas
Kobo: http://bit.ly/2g8Fhtp
Thanks so much!
All the best,
KMJ
Happy New Year my Dear Peeps. Welcome to the new world.
Ouch!  Does that sounds as scary as you read it as it does when I write it?
Sorry. I'll just move right along to happier chit chat. I'm hoping you all had a wonderful holiday and a
Very Happy New Year!
I'm thrilled to say that on the very first day of the new year I got to start it off in a most exceptional way by seeing my very first mass market single title, INSERT GROOM HERE book one in my Unconventional Brides Series, on the shelves in my local Barnes and Noble for the first time. It was a pretty fantastic feeling and one I'll never be able to recapture. Hey, your first time is your first time and I'm so grateful to my editor, Selena James and my publisher, Kensington Books for making that dream come true! (cut to me posing awkwardly while I try and play it cool blinking back tears as my husband not so discreetly snaps pics.)
I tell you what, I may be a way late bloomer, but I least I got a chance to see the sun.
There is something to this never too late stuff.
You can pick up your copy of INSERT GROOM HERE Book 1 of the 
Unconventional Brides where ever books are sold !  
Kensington: http://bit.ly/2eh61Vb
Amazon: http://amzn.to/28Mbqk3
iBooks: http://apple.co/28RPaWU
Barnes and Noble:  http://bit.ly/2gwFuas
Kobo: http://bit.ly/2g8Fhtp
And a bonus don't forget: please subscribe to my mailing list on the right and click below to enter this
month's giveaway!
Hint: it's FIRE! (Kindle Fire)
All the best,
KMJ
Today is one of those days where the life I'm living feels quite unlikely. A woman like me starts to think and reverts back to the girl I was growing up in Harlem and Washington Heights. Back then I spent almost as much time on the 'A' train as I did off of it as I commuted back and forth to school. In those days I always had my nose in a book and if a book wasn't to be had I would erase my surroundings and retreat to the way back of my imagination and come up with a story of my very own. On the train there were plenty of characters for story fodder.
Well today a story of my very own is out and released into the world in a way that is almost beyond my dreams.
INSERT GROOM HERE is my first single title and the first in my Unconventional Brides Series and here is the kicker, this book being release from Kensington publishing is the first for me that will be out in book stores and retail outlets and holy crackers there are even some libraries that will carry it! The thought of it overwhelms me. The thought that there may be another girl out there growing up somewhere like I did, who at a certain point may desperately need an escape from her everyday life on the commuter train or a home life which is not the fairy-tale her mask pretends it to be. The fact that she may find that escape in one of my books that she happens upon with a heroine that happens to look like her makes me so very happy.
I am grateful to God to have made it to this point in my career and know I have so much further to go, both in my writing and in helping to make more of these types of stories more equally accessible to the public.
Sidebar: #WeNeedDiverseRomance
But for now, today, I know day dreaming is not for nothing. Dreaming combined with work can lead to a moment of fulfillment greater than I ever imagined.
And now for the pluggy part about my book:
INSERT GROOM HERE Book #1 the  
Unconventional Brides Series
 
Eva Ward has won a lavish wedding on the nation's hottest morning show and can't wait to kick off her
happily-ever-after in style. Too bad her fiancé backs out on-air—and cameraman Aidan Walker makes sure her private meltdown goes viral, down to the last couch-kicking moment. The only way Eva can save face and keep her perfect nuptial plans on track is to star in a new "find-a-groom" reality segment. But finding Mr. Right in one month means ignoring her handsome new producer—none other than Aidan himself—and getting their instant, exasperating attraction out of her system…
Eva soon finds there's a lot more to Aidan than freewheeling charm. But one glimpse of his caring side can't make up for off-camera politics, Aidan's own secrets—or Eva's fear that they're too different to ever trust each other. So it's time for her to flip this script, write twists no one will see coming—and risk her heart to get the real thing…
Be one of the first to be introduced to the 
Unconventional Brides and grab your copy today where ever books are sold !  
Kensington: http://bit.ly/2eh61Vb
Amazon: http://amzn.to/28Mbqk3
iBooks: http://apple.co/28RPaWU
Barnes and Noble:  http://bit.ly/2gwFuas
Kobo: http://bit.ly/2g8Fhtp
And a bonus: please subscribe to my mailing list on the right and click below to enter this month's giveaway!
Hint: it's FIRE! (Kindle Fire)
All the best,
KMJ
Hello Dear Peeps,
So nice to check in with you all and wishing you a wonderful week. So far mine has been quite eventful.
I wanted to announce that this month's 25.00 Gift card contest winner was Vernetta E. Congrats Vernetta! Subscribe to the KMJ Newsletter in the links on the right to stay in the know with KMJ news and releases and be up on our monthly contests! Don't miss out.
And now for the big news… on Sunday I had my first ever signing at Barnes and Noble when I signed at Barnes and Noble in Yonkers, NY for their Holiday Book Fair to benefit the Yonkers Public Library. Talk about a dream come true! I was so honored to be invited and to come out for a great cause.
I also could not be more grateful to the friends and family that came out in support of me by picking up copies of HOLIDAY TEMPTATION, the Christmas Anthology that I'm in with Donna Hill and Farrah Rochon. You can see from the below photos that I could not stop smiling. Especially with all my family. You can pick up your copy wherever books are sold. Or just look up and click over to my books page.  Thank you so much!
All the best,
KMJ
Hello Dear Peeps! How are you all?
I can't believe it's been so long since I've checked in and I apologize. November has been an incredibly busy and stressful month, but I'm happy to be back home and get started on the crazy of the holiday season with all of you.
And speaking of the holidays it's time for me to get going with making those holiday donuts (see how I was dying to work that pun and these pics into this post) because my first single title release will be out at the end of this month and it will be busy, busy, busy in the best of ways!
On 12/27 INSERT GROOM HERE will be HERE!! Yay! Have you pre-ordered your copy yet? Well please do and be one of the first in the know (all the cool kids are doing it- if hat kind of peer pressure works on you).
You can Pre-order INSERT GROOM HERE at any of these retailers.
Kensington: http://bit.ly/2eh61Vb
Amazon: http://amzn.to/28Mbqk3
iBooks: http://apple.co/28RPaWU
Barnes and Noble:  http://bit.ly/2gwFuas
Kobo: http://bit.ly/2g8Fhtp
Also congrats go out to Michael S. for being last month's 25.00 Newsletter contest winner. Please fill out the links to the right and sign up for my newsletter if you have not already so that you can be sure to get links to the next contest. I hope you all are well and let's rock this busy holiday month out together!
Best,
Kwana
Ok so this happened. HOLIDAY TEMPTATION came out and no fooling, the publishers weren't kidding with me, but it is out and in bookstores just like they said.
At this point in my career seeing my name on a book on a shelf was still something I dreamed of but it had become a dream in the far back corner or my mind, about two feet to the left and behind the box that says 'GET BACK TO COLLEGE GRADUATION WEIGHT'. But today I went into my local Barnes and Noble, the one I'd been in countless times before with my dear twins since they were tiny tots, and there it was. Right up high on the romance shelves, face out no less with the other new releases.
Holy crap HOLIDAY TEMPTATION was there! And it was next to Hannah Howell and one book over from Madeline Hunter. The way I nearly swooned one would think I'd taken to day drinking. But this feeling was better than any drink. This was the feeling of a dream not deferred, but one come true after years of hard work, more rejections than I could count or take so I just stopped counting them, and a determined spirit and faith that boarded on nonsensical so only those with faith or little sense would dare understand.
Thank you all for sticking with me and understanding.
Now what to do with that blasted GRADUATION WEIGHT box?
All the best,
KMJ
It's release day! It's release day!
We're gonna party like it's release day!!
Yippee today is the day that HOLIDAY TEMPTATION comes out with the super fab Donna Hill, Farrah Rochon and Meeee!!!! I promise you I'm not twelve years old but this book coming out has me that excited. It's my first mass market in store release so besides being excited you'll find me going through all he emotions…
Excitement over the release…
Fear- (will they like me?)…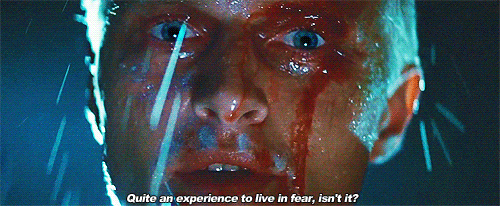 Overwhelming joy because hey, I'm in a book with two amazing authors and I'm in stores. I need to rock this moment!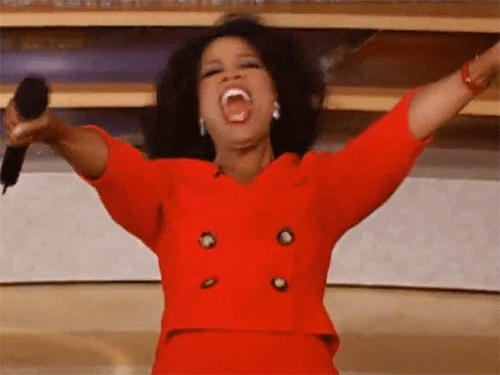 So don't mind me if a blabber on this week. First don't happen everyday. Now please excuse me while I head to some bookstores to scope out HOLIDAY TEMPTATION ON THE SHELVES….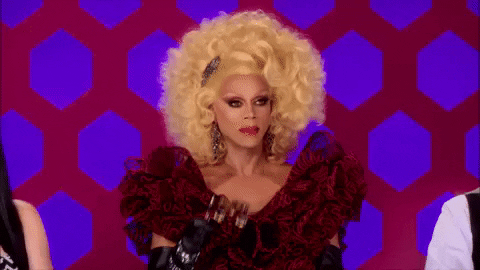 gifs thanks to giphy.com & realitytvgifs.tumblr.com
Feel free to join me or check out HOLIDAY TEMPTATION wherever books are sold.
Tis the season to satisfy your holiday desires with this festive trio of sexy stories…
A GIFT OF LOVE Donna Hill
Drama professor Traci Long spends her free time at the CoffeeMate café, pursuing her true passion—writing her own plays. Meanwhile, sexy barista Noah Jefferson is doing his best to distract her. But once they get involved, past betrayals make Traci wary. She's right that Noah is keeping something from her—but it might be something that will make this Christmas as sweet as a rave review—and steamier than her favorite chai latté…
HOLIDAY SPICE Farrah Rochon
A Christmas-time tragedy took photographer Miranda Lawson's holiday spirit with it. Since then, she's traveled the world, determined to outrun her demons. This year she's off to Istanbul. But the scenery isn't the only gorgeous site she spots through her camera lens….Kyle Daniels loves Christmas, but he's looking for escape too—and soon he and Miranda find it in each other's arms. Yet their connection doesn't end there. Maybe staying put isn't such a bad idea after all—especially when there's someone to celebrate with…
FROM HERE TO SERENITY K.M. Jackson
Unstoppable real-estate developer Ross Montgomery is under orders to get some holiday R&R. A cruise to Miami on his yacht, "The Serenity," is the perfect place to start—especially when he meets his new personal chef, Essie Bradford. Between her calming presence, her amazing food, and her delectable beauty, Ross just might develop a taste for the good life. And when the two discover they have a lot in common—including an irresistible attraction—the next course may be a spicy New Year…
Click below to check out HOLIDAY TEMPTATION at your favorite e-tailer
Amazon http://amzn.to/2drIf9a
iTunes http://apple.co/28Otxsv
Barnes and Noble http://bit.ly/2d9lSWA
Indie Bound http://bit.ly/2d9mLP1
Walmart http://bit.ly/2dbI6sY
Kensington  http://bit.ly/2d6S4dn
All the best,
KMJ